A Heartfelt Mother's Day Celebration: Ideas for Moms in Senior Living Communities
As Mother's Day approaches, it's time to start thinking about how to make this special day even more memorable for the most important women in our lives. This is especially true for those whose moms are living in senior communities such as assisted living, independent living, or memory care facilities. With the right mix of creativity and care, we can ensure that our moms feel loved and cherished, even if we can't be physically present. In this blog post, we'll explore some delightful ways to celebrate Mother's Day in senior living communities, with in-person and virtual options that cater to everyone's needs. Let's dive in!
What are some ways I can celebrate Mother's Day in person?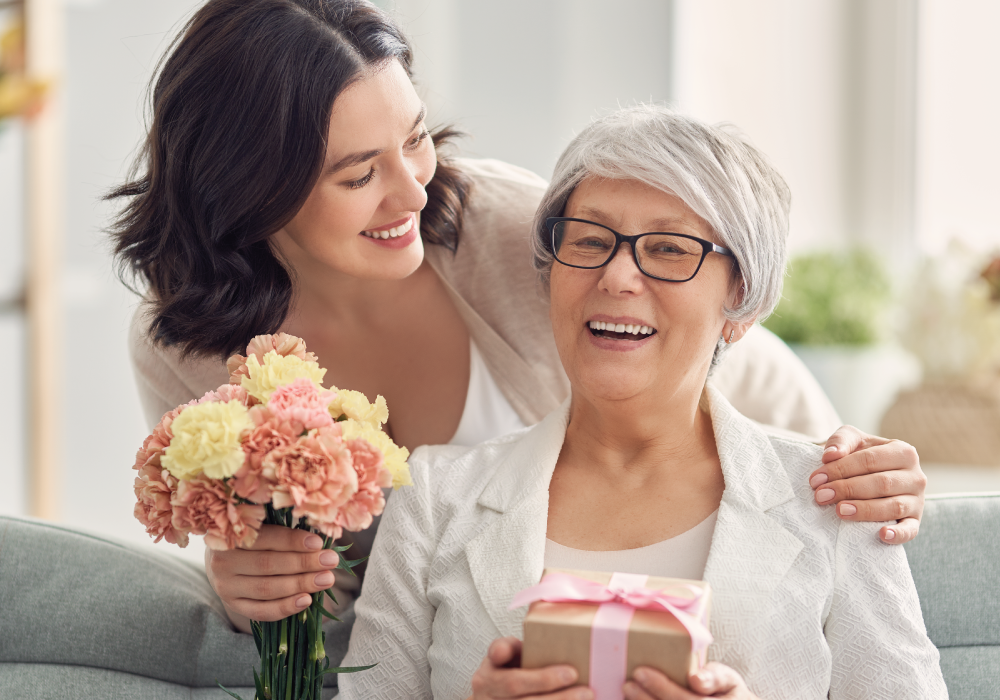 Craft a personalized gift together: Create a unique keepsake by crafting a handmade gift with your mom. This can be a beautiful piece of jewelry, a scrapbook with cherished memories, or even a hand-painted pottery item. Not only will this activity provide a fun bonding experience, but it will also give your mom a lasting memento of your time together.

Host a movie night: Choose a classic film your mom loves or a new release you know she'll enjoy. Set up a cozy movie night in her room or a common area of the senior living community, complete with popcorn, comfy seating, and maybe even a themed decoration. Watching a movie together is a relaxing way to spend quality time and create new memories.

Enjoy a meal together: Whether it's breakfast in bed or a fancy dinner at her favorite restaurant, sharing a meal is a wonderful way to bond with your mom on Mother's Day. Coordinate with the senior living community staff to make arrangements or bring a homemade meal to share with your mom and her friends.

Take a walk or participate in a group activity: If your mom is physically able, take a leisurely walk around the senior living community's grounds or participate in a group activity that she enjoys. This not only provides an opportunity for light exercise but also encourages social interaction and can boost her mood.
Some of you may have the time, but maybe you live far away, or just cannot be present for whatever reason. If that is the case, you may be looking for some ideas for how to celebrate Mother's Day virtually. This section is for you!
How can I celebrate Mother's Day virtually?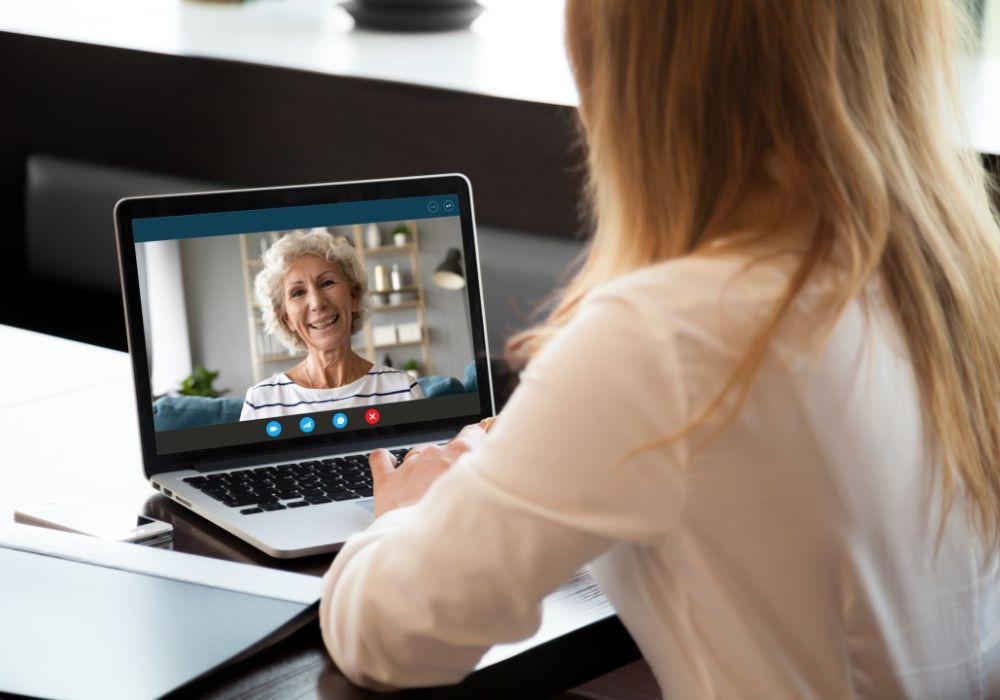 Video call with a surprise guest: For those who can't be physically present, technology can help bridge the gap. Arrange a video call with your mom, and surprise her by inviting a special guest she hasn't seen in a while – a sibling, grandchild, or even an old friend. This thoughtful gesture is sure to bring joy to her day.

Send a heartfelt video message: Create a heartfelt video message, sharing your favorite memories and expressing your love and gratitude for your mom. You can also involve other family members, who can contribute their own messages. Send the compiled video to her email or share it via a video platform, so she can watch it anytime she wants.

Set up a virtual game night: Organize a virtual game night where your mom and her friends can participate in trivia, bingo, or even a virtual escape room. This is a great way to engage her mind and provide social interaction, all from the comfort of her senior living community.

Create a personalized playlist or audiobook collection: Compile a list of your mom's favorite songs or audiobooks, and surprise her with a personalized playlist or collection. This thoughtful gift will provide hours of entertainment and remind her of your love and appreciation every time she listens.
If you happen to be busy and want something that doesn't require in-person interaction or virtual presence, but still want to show you care, we have you covered as well. This section is all about unique and thoughtful gift ideas that will make your mom's day extra special. From flowers and telegrams to custom-made chocolates and more, these gift suggestions are perfect for showing your love and appreciation on Mother's Day.
How can I celebrate Mother's Day without being present?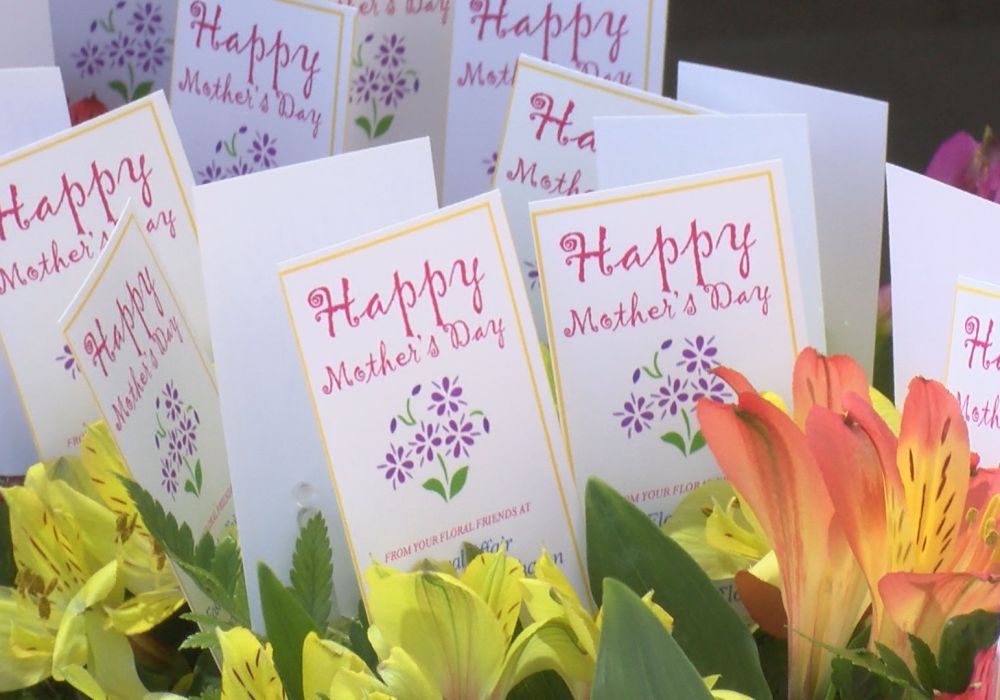 Customized floral arrangements: Choose your mom's favorite blooms and add a personal touch like a custom vase, ribbon, or heartfelt note to create a beautiful and unique bouquet.

Send a singing telegram: Surprise your mom with a talented performer who will sing her favorite songs or a personalized message, bringing a big smile to her face.

Personalized photo album or digital frame: Compile a collection of cherished memories into a beautifully designed photo album, or gift her a digital photo frame that can display a rotating slideshow of images.

Customized jewelry or accessories: Select a custom pendant with her initials or a charm bracelet that tells her life story, reflecting her personality and style for a thoughtful and meaningful gift.

Subscription box tailored to her interests: Choose a subscription box that caters to her hobbies or interests, such as gardening, crafting, or reading, providing her with a delightful surprise each month.
No matter how you may be celebrating, Mother's Day is a special opportunity to express our love and gratitude to the women who have shaped our lives. With these heartfelt in-person and virtual activities, we can ensure that our moms in senior living communities feel cherished and celebrated on their special day. Whether it's crafting a memorable gift together or sharing a virtual game night, let's make this Mother's Day one to remember for the amazing women who brought us into this world.
Share Post:
---
Comments
No comments!
---
POST A COMMENT